Spanish Courses in Spain
Once you've decided you want to study Spanish in Spain, and you've decided where to study Spanish, you have to decide what kind of course you want to take. There are several options to consider, depending on the time you want to dedicate to the course and your level of Spanish.
You can also choose how many Enforex Spanish classes you want to take per week. We recommend you make some kind of plan before you decide this: if you want to have a lot of free time to explore the city and maybe travel around the country a bit, you don't want to take on too many classes or you won't have any free time, but remember that one of the key points of learning Spanish is to persevere, and if you don't take enough classes the course will be for nothing.
Intensive Spanish Courses in Spain
Intensive Spanish courses integrate the standard Spanish classes with cultural lessons, so that you can learn about Spain at the same time as you are learning about the Spanish language. These types of courses are perfect if you don't want to stick to only learning the language, because you can take extra lessons on history, arts, literature, etc.
There are several types of intensive Spanish courses, depending on how much time you want to stay in Spain, and you can even choose to spend a whole semester or a whole academic year learning Spanish in Spain. If you want to make the most out of your course, you can also learn Spanish while traveling: you'll be able to choose different cities you want to visit and take a Spanish course in each. This way you'll make sure that you learn Spanish, without missing out on tourism.
Special Spanish Courses in Spain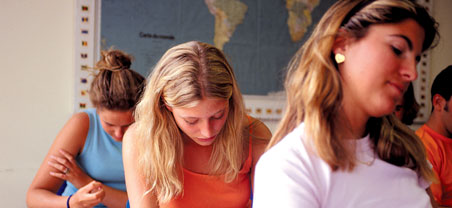 The special Spanish courses are for those that prefer to take a more specific course than the regular intensive Spanish courses. You can take one-on-one Spanish classes, where you'll have a teacher all for yourself, and the course will be adapted to your specific needs. Or maybe you're going to do a semester abroad in a Spanish university and need a preparation course to help you attain a level of Spanish that will permit you to follow your university courses perfectly.
If you're over 50 and you've decided to enrol in a Spanish course in Spain, there's a specific course for you with tours around the city, visits to museums and even special day trips where you'll learn much and more about the Spanish language and the Spanish culture.
Spanish Courses for Business & Professionals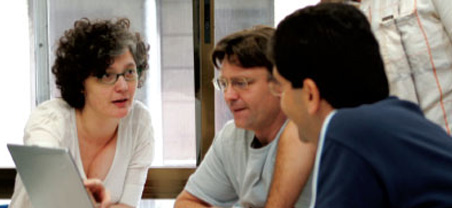 The Spanish courses for business and professionals are for those people who need Spanish for their jobs. These Spanish courses are adapted so that the topics studied in class match your needs. There are professors for each specific area of knowledge and you'll always have the best teachers for each part of the course.
If you want some experience working in Spain, you can take a Spanish course with an internship in a Spanish company included in the course, so you'll be able to measure your level of Spanish and the effectiveness of the courses in a real working situation. This is especially great for you CV and might give you a leg up over the competition.
Academic Spanish Courses and Active Spanish Courses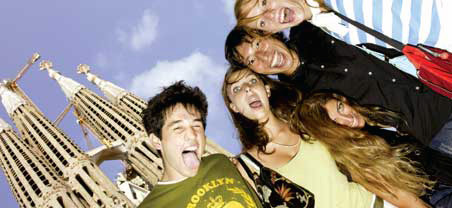 The academic Spanish courses are centered around a specific area of knowledge. You can choose between literature, history and art history. It will not only help with your Spanish language skills, but you will also acquire extensive knowledge in any of the areas you choose to study. To take these Spanish courses you have to have at least an intermediate level of Spanish (the teacher won't be teaching you the basics) and they're complemented with extracurricular activities like visits to museums and art galleries.
The active Spanish courses are for those people who want to do an out of the ordinary course. You'll have regular Spanish classes adapted to your level, and they will be complemented with extracurricular activities like flamenco classes, golf lessons or scuba diving. If the regular classes are just too boring for you and you need some action, spanish courses are perfect!