Life & works of Francisco de Quevedo
Francisco Gómez de Quevedo y Villegas, a.k.a. Quevedo, was born in Madrid the 17th of September of 1580 within an aristocratic court family. He's one of the better considered Spanish writers of the Baroque period and he wrote poems and prose.
The Life of Francisco de Quevedo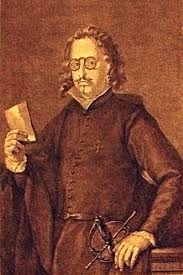 Quevedo studied in the Imperial School of the Jesuits in Madrid and then attended the University of Alcalá de Henares from 1596 to 1600. In 1601 he moved to Valladolid as a member of the court, where he studied theology. By this time he'd become a noted poet and writer, and his enmity with Góngora, one of the other great Baroque poets, was widely known.
The court returned to Madrid in 1606, and Quevedo with it. Once there he dedicated himself entirely to learning Spanish literature and humanities. During his stay in Madrid he made many enemies and some friends, including Pedro Téllez-Girón Duke of Osuna, with whom he left for Italy in 1613 to work for him. He came back to Madrid and stayed close to the Duke of Lerma to assure his friend the title of Viceroy of Naples, which he achieved in 1616.
He returned to the Duke's entourage shortly after, where he was entrusted to putting in order the finances of the Viceroy of Naples, and went on espionage missions to Venice, the rival Republic. For all his efforts, he was awarded the knighthood in the Order of Santiago in 1618.
In 1620 after the fall of the Duke of Osuna, Quevedo is exiled to the Torre de Juan Abad (Ciudad Real), the lordship of which his mother had bought for him before she died. However, is lordship wasn't recognized and he battled endlessly for it, but it wasn't recognized until after his death. The exile was good for Quevedo, and the solitude and distance from court produced some of his best works, like "Retirado a la paz de estos desiertos..." or "Son las torres de Joray...".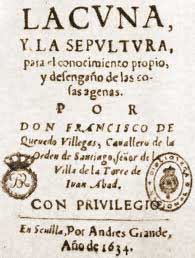 The enthronement of Philip IV allowed Quevedo to return from his exile to Madrid and to politics. He traveled with the king quite frequently, mostly to Andalusia and Aragon, and during this time he also denounced some of his works to the Spanish Inquisition, which were being published without his consent by booksellers trying to make some money. He also became known for being quite a rowdy drinker, heavy smoker and frequent visitor to brothels. However, this didn't stain his role in court and in 1632 he was named secretary to the king. It was very hard work, but during it he was a prolific writer and he published "La cuna y la sepultura" (The cradle and the sepulcher) in 1634, "De los remedios de cualquier fortuna" (Of the remedies of any fortune) was completed between 1633 and 1635, together with the "Epicteto", "Virtud Militante", "Los cuatro fantasmas" (The four ghosts), the second part of "Política de Dios" (Politics of God)...
Quevedo was arrested in 1639 and his books were confiscated as he was taken to the convent of San Marcos in León. During his arrest there he dedicated most of his time to reading both good and bad authors, because as he said "there is no book, despicable as it can be, that does not contain something good...". He left his confinement in 1643, and by then he was old and sick and frail, and he renounced his life in court in Madrid to retire to the Torre de Abad in Ciudad Real. He died in the convent of Villanueva de los Infantes on the 8th of September of 1645.
The Works of Francisco de Quevedo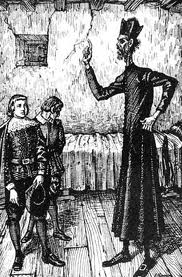 Quevedo was one of the main writers of the Conceptismo movement. Deriving from "concept", conceptismo is characterized by a quick rhythm, a direct and witty vocabulary and satirical wit. Meaning is conveyed in a concise manner, expressing mainly concepts.
Quevedo was mainly a poet. Not all his works were published during his life, and his poetry showed the caricature-lie vision he had of men and the society he lived in. Although much of his work was satirical or humorous, Quevedo was quite a serious writer, and his extensive knowledge (he'd taken care of studying anything that fell on his hands) showed through his writing. He also wrote extensive love poems, and though he was quite the misogynist, women loved Quevedo.
In his prose, Quevedo wrote about politics, theology and literary criticism, and he published many books and papers on those subjects. He only wrote one novel, a picaresque called "El Buscón", in which he tells the life story of a swindler called Don Pablo whose two aims in life are becoming a gentleman and learning virtue, but he fails miserably at both. "El Buscón" was published in three separate books in 1626, but it was written in 1604 during Quevedo's time away from Madrid, when the court was moved to Valladolid.