Life & works of Mesonero Romanos
Ramón Mesonero Romanos was one of the most influential writers during the Spanish Romanticism period. He was the main author of the Costumbrismo movement, and an active member of the several literary gatherings which took place in Madrid during his time. Together with Mariano de Larra, he was also an important figure of the Romantic style of journalism, which was born as a new genre during the first half of the 19th century and which helped spread the Romantic ideals throughout the Iberian peninsular.
Mesonero Romanos - Life and Works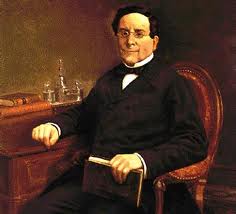 Mesonero Romanos was born Madrid in 1803 in the midst of a well-off family, although he never received any superior education. He learnt what he knew from observing and talking to people. Sadly, his father passed away in 1820, leaving Ramon Mesonero Romanos in charge of the family business. There are a number of references to Mesonero Romanos' family as well as his friends during the first part of his life in his works, most notably in his piece "El Curioso Parlante". His first works, "Mis ratos perdidos o ligero bosquejo de Madrid en 1820" were published in 1821, after he joined the National Militia, which he did at the age of just 18. He was influenced by his contemporaries after he started to attend the literary gathering "El Parnasillo", where he made friends with most of the attendees, but especially with José María Carnerero, who introduced him to the most important newspapers and encouraged him in his career as a journalist.
He started his role as a journalist in 1822 in "Indicador de las Novedades, de los Espectáculos y de las Artes", although his first costumbrist vignettes were published in Carnero's magazine, "Cartas Españolas". Mesonero Romanos founded his own newspaper in 1836 which was called "El Semanario Pintoresco Español", which became a point of reference in matters relating to life in the Court of Madrid during the first half of the 19th century, and which narrated what went on in several literary gatherings of the capital.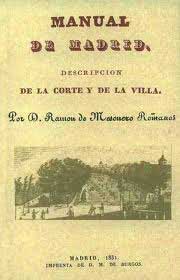 In 1838 he became a member of the Caja de Ahorros de Madrid, of which he was made First Secretary in 1839, the same year he was named as an Academic of the Royal Spanish Academy, one of the most significant points in Romanos' life because it confirmed his place as a man of literature. Mesonero Romanos was very interested in Madrid, his hometown, and this interest produced "Manual de Madrid" (1831) and "El antiguo Madrid" (1861), which talk about the historical and urbanite aspects of the city. He also wrote several articles on the customs of Madrid, "Panorama matritense de 1835" and "Escenas matritentes de 1842". In the 5 years between 1845 and 1850, Mesonero Romanos worked as a town councillor in the Town Hall of Madrid. Mesonero Romanos wrote about everything to do with Madrid with great accuracy and attention to detail; from the trivial issues of the time, as well as the more important issues concerning the press and politics of the city, up to and including the theatrical and cultural shiftings of the moment. There was nothing in Madrid that Mesonero Romanos wouldn't write about.
Although his work is developed during and with the Spanish School of Romanticism, Mesonero was very critical towards Romantics. He rejected the most extravagant aspects of the movement and distinguished between two different modalities in the movement: the historic one, where writers talked about spirituality and morality; and the modern Romanticism, more imaginative and topical.
Mesonero Romanos was influenced by the great play writers of his time, as well as by picaresque literature. He published several articles in which he talked about Baroque authors such as the likes of Lope de Vega, Tirso de Molina and Calderón. He was interested in showing the changes in Spanish society, both in customs and ideals. Since he'd been born in a well-off family, Mesoneros defended the bourgeois lifestyle, which didn't stop him from expressing his liberal views in politics.
As he grew older, Mesonero tempered his liberal ideas and in his old age he became quite the conservative. He published an autobiography, entitled "Memorias de un Setentón" in 1881. He died in 1882 in Madrid. He has always been remembered for his costumbrist writings, especially those which depicted the people, the places and the atmospheres of Madrid.