Life & works of Mariano de Larra
Mariano José de Larra was an eminent writer, who wrote clearly and powerfully. As an essayist, only Quevedo, Feijoo of Jovellanos can match him. He was very preoccupied with Spain's political situation, and during the 8 years he worked as a journalist he wrote over 200 articles on different topics. He represents the democratic Romanticism, and the pains his country is going through are the main topic of his satirical and critical work.
Mariano José de Larra - Life and Works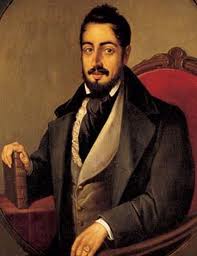 Larra was born in Madrid in 1809. His father was an afrancesado who worked as a surgeon in the court of Joseph Bonaparte. They had to leave Spain and exile in France, but they came back in 1818, and Larra's father started to work as a doctor for one of the king's brothers.
Larra followed his father around Spain and finally established himself in Valladolid, were he attended University for a year. He moved back to Madrid in 1825, where he continued his studies. In 1827 he joins the "Voluntarios Realistas", a group of absolutists formed by Ferdinand VII to fight against the liberals. It was during this time that he began to wrote poetry and odes.
Journalism is Larra's specialty. In 1828, when he was only 19, Larra published a monthly pamphlet called "El Duende Satírico del Día", where he criticizes the society he lives in, and signs with the pseudonym "El Duende". This is the beginning of Larra's satirical works.
Larra is part of a groups of restless and dissatisfied youngsters that meet in a café in Madrid. Their gatherings were called "El Parnasillo". In 1828, Larra has a confrontation with José María de Carnerero, whom he had criticized in the last editions of "El Duente Satírico del Día", and Carnerero reports the publication to the authorities, who close it down. However, by the time this was achieved, Larra was already known in the literary and journalistic circles.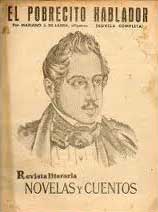 He married at 20 to Josefa Weroret. They had two children, but the marriage was unhappy and they separated a few years later. During 1830, Larra translated French works for Juan Grimaldi, a theatre entrepreneur, and started to write his own plays. This is a key year in Larra's life, during which he met Dolores Armijo, with whom he began an affaire while he was still married to Josefa Weroret.
1832 is the year Larra returns to journalism, with "El Pobrecito Hablador", where he signed as Juan Pérez de Munguía. With this publication, he wants to show that it's possible to leave behind the absolutist and retrograde Spanish past and follow the rest of Europe into the future. A few months after Larra begins his collaborations in "La Revista Española", he ceases the publication of "El Pobrecito Hablador".
"La Revista Española" was a liberal newspaper which appeared in 1832 after the death of the king. The government was in the hands of Maria Christina of the Two Sicilies, Queen regent, who was more open to liberal ideals. Larra used the pseudonym Fígaro to insert literary and political criticism in his costumbrist vignettes. Some os his better known articles, like "Vuelva usted mañana", "El castellano viejo", "Entre qué gentes estamos", "En este país" and "El casarse pronto y mal" were written during this time. Larra, politically committed to the change from absolutism to liberalism, also uses his articles to condemn the carlists. He was also a fervent lover of the Spanish language, and usually denounced those who didn't use it correctly. Larra's articles are a great way to learn Spanish, because of their careful language and correction.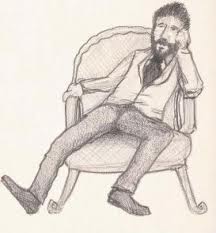 In 1834 he published the novel "El doncel de don Enrique el Doliente". His lover left him that year, and he also separated from Josefa, when she was pregnant with his third child. In 1835 he travels to Lisbon and spends some time journeying around Europe, where he meets some of the best Romantic writers, like Victor Hugo and Dumas. Back in Madrid he began to write articles for the newspaper "El Español", centered around politics. He had a try at politics in 1836 when he was elected representative of Ávila, although an uprising to restore the Constitution of Cádiz of 1812 prevented him from achieving his dream. His growing disappointment and unconformity with Spain's society and lack of changes, together with the pain at being separated from Dolores, his true love, shows in his late articles.
Larra committed suicide the 13th of February of 1937, after Dolores had visited him to let him know she was leaving him definitely. His funeral was attended by almost everyone related to the Literary Spanish Schools.