Life & works of Jose Zorrilla
José Zorrilla y Moral is considered one of the best play writer of the Spanish Romantic theatre. His better known work is "Don Juan Tenorio", written in 1844. It's a romantic drama divided in two parts and talks about a young man who makes a bet with one of his friends to see who can make the most evil in a year, and if he can seduce Doña Inés, his friend's promised. Don Juan does everything he pleases with great ease, but he starts to lose his soul in all the evils he's carried out, and at the end of the story he has to confront his ghosts. Only the love of Doña inés can help him then.
José Zorrilla - Life and Works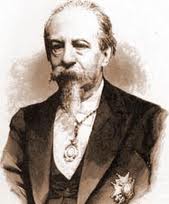 Zorrilla was born un Valladolid in 1817. His father was a strict conservative and absolutist man. The family lived in Valladolid, then spent some years in Seville and Burgos, finally moving to Madrid when the poet was 9, where the father worked as a police superintendent and Zorrilla entered the Noble Seminar (Colegio Imperial de Madrid) where he took part in school plays.
After the death of Ferdinand VII, Zorrilla's father, as an absolutist, was exile to Lerma while his son moved to Toledo to study Law at the University. He stayed with a friend of his father's, who, after seeing Zorrilla didn't really study anything in school, sent him back with his family in 1833. His love of women, drawing and literature made his father angry and he sent him to Lerma to work. Zorrilla stole a mule and fled to Madrid instead.
It was 1836 when he arrived in Madrid, where he lived poorly and frequented the bohemian gatherings. He worked here and there and wrote for some newspapers. The Revolutionary speeches he gave in the Café Nuevo made him an object of police prosecution. At Larra's funeral in 1837, Zorrilla declaims an improvised poem in his memory, and earns the friendship of Espronceda and Hartzenbusch, and also established his fame as a poet. He started to write for "El Español" and "El Porvenir", and to frequent "El Parnasillo", a literary gathering where the best writers of the time met to talk about literature, society and politics.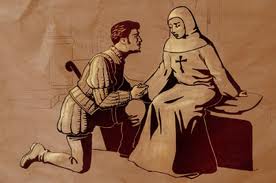 In 1839 his first drama, "Juan Dándolo", was seen on stage, and in 1840 he published his "Cantos del Trovador" and released three more dramas: "Más vale llegar a tiempo", "Vivir loco y morir más" and "Cada cual en su razón". In 1838 he wed Florentina O'Reilly, an older Irish widow who had a son, but the marriage didn't work out: the son they had together died and Zorrilla kept several lovers.
In 1845 he left Florentina and moved to Paris, but he returned to Madrid a year later after the death of his mother. He sold he works to the Baudry House in Paris, who published them in 3 volumes in 1847. In 1849 Zorrilla was made Board Member of the recently founded Spanish Theatre; the lyceum honored him and the Spanish Royal Academy also made him an associate, although he wouldn't occupy hid place there until 1885. His father died that same year, and it was a hard blow for the writer because he never truly forgave him for running away and living as a writer. This weighted down Zorrilla's conscience and would affect his later works.
In 1851 he moved back to Paris, fleeing from his wife, and took a lover. In 1853 he traveled to London, and then spent 11 years in Mexico and a year in Cuba. In Mexico he lived with great economic difficulties until Maximilian I ascended to power and named him Director of the Mexican National Theatre.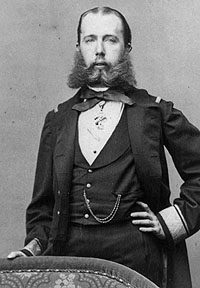 After the death of his wife Florentina, Zorrilla moves back to Madrid where he hears about the execution of Maximilian, and he wrote an irate poem called "El Drama de un Alma", where he blamed the mexican liberals for the death of his friend. His faith suffered from a hard blow but his marriage to Juana Pacheco in 1869 helped him recover. The couple lives with hardy economic problems, and the help of several of his friends, the commercialization of his works and a government commission in Rome didn't help. However, he was constantly being showered with hon ours. He died in Madrid in 1893 as a consequence of a brain operation to remove a tumor. His remains were moved to Valladolid in 1896.
As a writer, Zorrilla didn't only write plays, although these were his master works. He also wrote poems and narrative. There are some elements of the poet's life which made a great impression in his works:
First, the relationship with his father, which wasn't a god one because he never forgave him for his juvenile errors. Zorrilla carried a great guilt with him, and this is probably the reason he cultivated traditional and conservative ideals, in constant contradiction to his own liberal thoughts.
Second, his sensual character and ease to fall in love. Love is actually one of the main and recurrent topics in Zorrilla's works.
Third, his health problems. The poet created a crazy double of himself in 1853, which appears in "Cuentos de un Loco" (Stories of a madman), and in his autobiography he mentions his hallucinations and sleepwalking. These are probably the effects of his brain tumor, but what isn't clear is if the numerous fantasy worlds he created were a result of his great imagination or of his mental illness.
Zorrilla's plays are still represented in many Spanish theatres, especially his masterpiece "Don Juan Tenorio". Zorrilla is also one of the main authors studied in schools in Spain as the perfect example of Spanish play writer whose works are still of importance, over a century after his death.