Life of Juan Ramon Jimenez
Juan Ramon Jimenez is considered to be one of the best Spanish poets of the 20th century. He was awarded the Nobel Prize of Literature in recognition for all his literary work, and especially for his book "Platero y Yo", which is studied and partially memorized in all Spanish schools.
Juan Ramon Jimenez - Life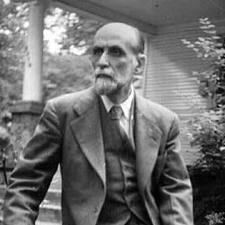 Juan Ramon Jimenez was born in 1881 in a town called Moguer, in the southern Spanish region of Andalusia. After studying in Huelva during his childhood, in 1896 he moves to Seville to be a painter, thinking that that was his calling. Once there he starts to attend the literary gatherings in El Ateneo of Seville, and starts to write some prose and poems. He also begins to write contributions for some newspapers and magazines in Seville and Huelva. Pushed by his father, he tried to study Law in the University of Seville, but he drops out in 1899.
In 1900 Juan Ramon Jimenez moves to Madrid and published his first two texts: "Ninfeas" and "Alma de violeta". The death of his father and the dire economic situation of his family depress him, and in 1901 he's admitted in a sanatorium in Bordeaux. Back in Madrid he stays in the Sanatorio del Rosario, where he begins to write a series of erotic poems, many involving the nuns that worked at the Sanatorio del Rosario. The story goes that the Mother Superior eventually discovered the poems which led him to be expelled from the establishment; however this story has yet to be proved. In 1902 he publishes "Arias tristes" and helps found the literary magazine "Helios". He leaves the Sanatorio del Rosario and in 1904 he published "Jardines lejanos".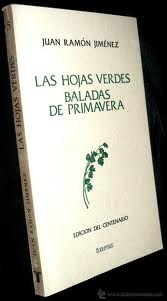 In 1905 he goes back to his hometown in Andalusia to help out his family after the death of his father. This is a very fruitful time for Juan Ramon Jimenez, and he writes incessantly. In fact, it's his most prolific period, during which he produces almost 20 books of verses, like "Pastorales" (1903-1905), "Baladas de primavera" (1907), "Laberinto" (1910-1911) or "El silencio de oro" (1911-1913).
Six years later, in 1911, he goes back to Madrid, where in 1913 he meets and falls in love with Zenobia Camprubí Aymar. He travels to Paris and the US several times, where he marries Zenobia in 1916. This event and his rediscovery of the sea mark his works, and he writes "Diario de un poeta recién casado". This is the book that signals the change from his sensitive period to his intellectual period. From this moment on Juan Ramon Jimenez writes a very intellectual poetry, and in 1918 he leads movements to renovate the poetry, which would have a huge influence in the Generation of '27.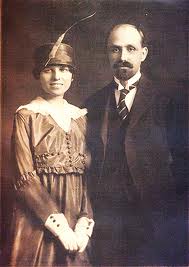 From 1921 to 1927 he published parts of his prose in magazines, and from 1925 to 1932 he publishes "Cuadernos", 8 books that actually contain almost all of his written works. From 1931, Zenobia starts feeling the symptoms of the cancer which would later take her life. Juan Ramon Jimenez was forced to leave Spain in 1936, due to the breakout of the Spanish Civil War. He moves to Washington, and this moment marks an important period in his life as it was the time when his writing changed from an intellectual style to a true style.
In 1946 the writer is hospitalized for 8 months after another breakdown due to his depression, and in 1950 he returns to Puerto Rico, where he gets a job as a professor in the University of Puerto Rico. After this he becomes a professor at the University of Maryland, where he lectured in Spanish Language and Literature. Many years later, the University named both a building and a writing program after him. Also during this period, he taught at the University of Miami in Coral Gables. It was here that Juan Ramon Jimenez wrote "Romances de Coral Gales". In 1956, the Swedish Academy awards him in Puerto Rico with the Nobel Prize in Literature. His wife dies three days after, and Juan Ramon Jimenez would never recover from it. He died in 1958 in the same hospital as his wife and his remains were later transferred to Spain where they were buried.