Life & works of Gabriel Miro
Gabriel Miro was so important to the city of Alicante that there are several libraries and schools in Valencia named after him. He's considered by many one of the best writers Alicante has ever produced.
Gabriel Miro - Life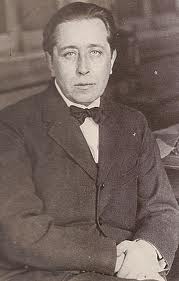 Gabriel Miro was born in Alicante in 1879. Between 1887 and 1892 he studied with his brother Juan in the Jesuit boarding school of Santo Domingo en Orihuela, where he was awarded his first literary prize. He was a sickly boy and his parents moved him to the Instituto de Alicante, and later the whole family moved to Ciudad Real, where Gabriel Miro finished his baccalaureate. He tells this story in "Niño y grande"
In 1895 he began his Law studies in the University of Valencia and in the University of Granada, where he graduated in 1900. Gabriel Miro failed the two times he took the Judiciary exam, so he got modest jobs at the City Council in Alicante and in the provincial Council. In 1901 he married Clemencia Maignon, and had two daughters with her.
In 1908 he won the first price in the literary contest organized by "El Cuento Semanal" and secured his fame as an excellent narrator with a great style. He was paid homage by several important writers like Pio Baroja or Valle-Inclan, and that same year his father dies. During this time he contributes in many Spanish and American magazines like "El Heraldo", "Los Lunes del Imparcial" and "ABC".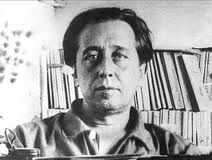 In 1911 he was named chronicler of Alicante, and in 1914 he moves to Barcelona to occupy a job post at the Council. During his time there Gabriel Miro contributes to some Catalan newspapers: "Diario de Barcelona", "La Vanguardia" and "La Publicidad".
In 1920 he moves to Madrid to work in the Ministry of Education. In 1925 he wins the prize "Mariano de Cavia" with his article "Huerto de Cruces" and in 1927 he's proposed for the Real Academia Española, but he's not chosen. The reasons are not very clear, but it's though the denial was based on the anticlerical accusations to his novel "El obispo leproso". Gabriel Miro dies in 1930 in Madrid.
Gabriel Miro's early life in a catholic and traditional setting molded his personality. He was a melancholic and introverted man, christian and with pure feelings, but his experience at the Jesuit school in Alicante turned him into an anticlerical. Miro was a simple, honest and kind man with a hyperesthetic temperament. He had an exalted sensibility towards colors, smells, textures and sounds that he reflected in his works, which are slow, lyric and very descriptive and elaborate.
Gabriel Miro - Works
Most of the literary critics consider that Gabriel Miro reached his literary maturity with "Las cerezas del cementerio" (1910), which tells the story of the young Félix Valdivia and his love for an older woman called Beatriz. The topics in this book are erotism, illness and death.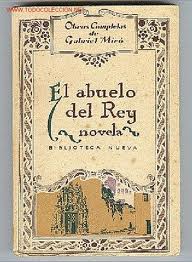 In 1915 he published "El abuelo del rey", a story about three generations in a family who live in a small city in Levante. The author uses this book to present the fight between tradition and progress, and the pressure of the environment. Moreover, it's a meditation on the passage of time.
"Figuras de la Pasion del Señor" is published in 1916, and it talks about the last days of Jesus Christ. With "El libro de Sigüenza" Gabriel Miro begins to publish autobiographic works in which the character Sigüenza represents him. Other books with this character are "El humo dormido" (1919) and "Años y leguas" (1928).
In 1921 the writer publishes "El ángel, el molino, el caracol del faro" and "Nuestro padre San Daniel". They are both set in Oleza, in Levante, at the end of the 19th century.
Gabriel Miro's books are more centered around feelings and emotions, and the events that take place are not as important. The characteristics of his work are:
Fragmentarism: texts have an undetermined beginning and end; there's no introduction and scenes are brusquely interrupted, without letting the reader know the outcome.
Use of ellipsis
The structure of the story is done in separate scenes, united through reflection and rememoration.
The passage of time is a key topic in Gabriel Miro's works. He incorporates the past into a continued present through sensations, evocations and memories.
The use of synesthesia and sensory images.
Surprising use of adjectives.
Very rich vocabulary.