Life & works of Pio Baroja
Pio Baroja y Nessi was a Spanish writer of the Generation of '98. He was also a doctor (although he hardly worked as one) and an excellent essayist. He was admired by some of the greatest writers like Ernest Hemingway and John Dos Passos.
Pio Baroja - Life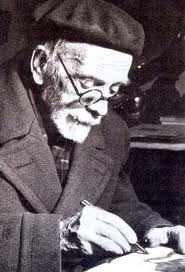 Pio Baroja was born in San Sebastian in 1872. His family had a printing company and they were quite well off. He had two other brothers, Darío (who died young) and Ricardo, and a sister, Carmen. The family moved to Madrid in 1879, when Pio was 7, then went back to Pamplona and back to Madrid, where the three brothers studied in several Spanish schools. He studied Medicine in Valencia and finished in 1891. He got his PhD in Madrid in 1894.
After getting his PhD, Pio Baroja left for Guipuzkoa where he got a job as a doctor, but it was hard work and he didn't like it, so after a year he returned to San Sebastian to see if he could succeed in the literary world. His brother had a bakery in Madrid and was sick of caring for it, so Pio decided to take his place. Once settled in Madrid, he began to contribute in several newspapers and magazines, sympathizing with anarchist social doctrines but never joining one. Like Miguel de Unamuno, Pio rejected the Basque nationalist ideals and though that the Basque Country should make an effort to join Spain, not to separate from it.
His first book was published in 1900, a collection of works called "Vidas Sombrias". His book was very well received by literates like Unamuno or Azorin, and little by little he began to immerse himself in the literary underworld of Madrid. He became a close friend of Azorín and Maeztu, and for a time they were known as the Group of Three. From this group emerged, later on, the Generation of '98, although Pio Baroja denied the existence of such group.
In 1903 he worked as a correspondent in Tanger, then traveled across Europe for several years, and during this time he started collecting books about occultism, witchcraft and history of the 19th century. He spent his summers with his family in Navarre, in an old house he'd bought and restored. Pio Baroja loved to travel around Spain, and often did so with his siblings Ricardo and Carmen.
The start of the Spanish Civil War caught him spending the summer in his house in Navarre. He tried to escape to France but was found by some Carlist soldiers, who hated him for his anticlericalism. He was kept in prison for a day and after he was let go he went straight to Paris, where he settled down Spanish School of Paris.
His best works end with the end of the Civil War. He spent some more time in France and then went back to Madrid. He continued to write and publish novels, and had some problems with censorship, which prevented him to publishing his novel on the Spanish Civil War.
His sister Carmen died in 1949 and his brother Ricardo in 1953, and Pio died in 1956 from arteriosclerosis. He was buried in the Almudena cemetery in Madrid as an atheist.
Pio Baroja - Works
Pio Baroja wrote mostly narrative and essays, but he also dabbled in theatre, poems and biographies. He grouped his novels in 9 trilogies and a tetralogy, although it's not clear what judgment he used to do so because there seem to be no common elements: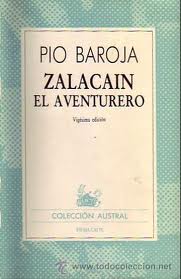 Tierra vasca (Basque country): "La casa de Aitzgorri" (1900), "El mayorazgo de Labraz" (1903) and "Zalacaín el aventurero" (1909).
La lucha por la vida (The fight for life): "La busca" (1904), "Mala hierba" (1904) and "Aurora Roja" (1904).
La raza (The breed): "El árbol de la ciencia" (1911), "La dama errante" (1908) y "La ciudad de la niebla" (1909).
El pasado (The past): "La feria de los discretos" (1905), "Los últimos románticos" (1906) y "Las tragedias grotescas" (1907).
La vida fantástica (The fantastic life): "Aventuras, inventos y mixtificaciones de Silvestre Paradox" (1901), "Camino de perfección (pasión mística)" (1901) and "Paradox rey" (1906).
Las ciudades (The cities): "César o nada" (1910); "El mundo es ansí" (1912); "La sensualidad pervertida: ensayos amorosos de un hombre ingenuo en una época de decadencia" (1920).
El mar (The sea): "Las inquietudes de Shanti Andía" (1911); "El laberinto de las sirenas" (1923); "Los pilotos de altura" (1931); "La estrella del capitán Chimista" (1930).
Los amores tardíos (The late loves): "El gran torbellino del mundo" (1926); "Las veleidades de la fortuna" (1927); "Los amores tardíos" (1942).
La selva oscura (The dark jungle): "La familia de Errotacho" (1932); "El cabo de las tormentas" (1932); "Los visionarios" (1932).
La juventud perdida (The lost youth): "Las noches del Buen Retiro" (1934); "Locuras de carnavalv" (1937); "El cura de Monleón" (1936).
The novels Pio Baroja wrote during the last stage of his life are normally called "Novelas Sueltas" (loose novels) because they don't really form any trilogies, mostly due to censorship or Baroja's age, which sometimes prevented him from writing: "Susana y los cazadores de moscas" (1938), "Laura o la soledad sin remedio" (1939), "El caballero de Erlaiz" (1943), "El puente de las ánimas" (1944), "El hotel del Cisne" (1946) and "El cantor vagabundo" (1950). All these novels were meant to be parts of different trilogies which the writer never finished.
In his last years of life he tried to write a new trilogy on the Spanish Civil War, but the censorship prevented him from publishing it. However, as soon as Spain was an open democracy, they were published by relatives of Pio Baroja. The first one is called ";Miserias de la Guerra" and the next one will be called "A desbandada".
He also wrote a series of books, which appeared between 1913 and 1955, called "Memorias de un hombre de acción", based on the life of an ancestor of his called Eugenio de Aviraneta (1792–1872). Through these books he shows what the Spanish society was from the Peninsular War to the Regency of Maria Cristina.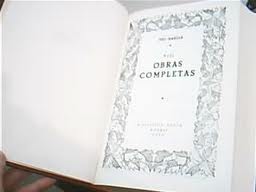 He also published short stories, like those in "Vidas Sombrias" (1900) and "Idilios Vascos" (1902); autobiographical books, like "Juventud, egolatría", and the eight volumes of "Desde la vuelta del camino", the best example of an autobiography written in Spanish ; essays like "El tablado de Arlequín" (1904), "La caverna del humorismo" (1919); and many other genres and styles.
Most of his characters are misfits that oppose the setting and society they live in, but they're too weak to change thing in a way that would suit them, and they end up frustrated and condemned to accepting the system they reject. It has often been said about Pio Baroja that he was careless about his writing, but this is because of his anti rhetoric tendency and his rejection towards the labyrinthine way of writing of the Realists. His style is characterized by:
Use of short time periods
Simplicity and economy of expression
Descriptive impressionism
Sour tone: he uses words that reflect his pessimism
Quick narrative tempo
Natural dialogues
Correctness and precision