Life & works of Antonio Machado
Antonio Machado Ruiz is considered one of the best poets in the Spanish language of the 20th century. His poems are still read and memorized in many Spanish schools around the world, and his tomb in Collioure is a popular tourist attraction for Spanish people visiting the region.
Antonio Machado - Life
Antonio Machado was born in Seville in 1875, the second of five brothers, in the midst of a liberal family. In 1883 the whole family moves to Madrid. Machado studied in the Institución Libre de Enseñanza, which had been founded by a friend of his father. After this, he finished his studies in two schools in Madrid, San Isidro and Cardenal Cisneros.
He travels frequently to Paris, where he meets Rubén Darío and works for a few months in the publishing company Garnier. In Madrid he takes part in the literary and theatre world, and becomes part of the troupe of María Guerrero and Fernando Díaz de Mendoza. In 1907 Machado gets the French Chair in Soria, and afterwards he travels to Paris with a scholarship to study philosophy with Bergson and Bédier. His wife dies (they had only been married for 3 years) and he asks to be moved to Baeza (Jaén) where he continued to teach Spanish from 1912 to 1919.
He moves to Segovia, wanting to be closer to Madrid, and spends some years contributing to the University of Segovia. In 1927 he becomes a member of the Real Academia Española and a year later he meets the poet Pilar de Valderrama (Guiomar in his poems), with whom he has a secret relationship for years. In 1932 he moved back to Madrid.
During the 20's and 30's Machado writes plays in collaboration with his brother Manuel. During the Spanish Civil War he stays in Madrid and contributes to the Republican publications. In 1939 he's evacuated to Valencia, where he writes for the publication "La Hora de España" and takes part in the International Congress of Writers for the Defense of Culture. From there he moves to Barcelona, where he crosses the Pyrenees to Collioure. He dies in Collioure in 1939.
Antonio Machado - Works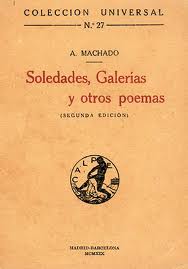 Machado's poetic work begins with "Soledades", published in 1903. The characteristics that would mark all of his works are already present in this short volume. He re-published this first book under the title "Soledades, Galerías y otros poemas" as an extended version with some extra poems in 1907. By this time Machado has found his own voice and personality, with a characteristic nostalgic tone, softly melancholic, even when he talks about real things and common topics during this period: abandoned gardens, old parks, fountains...
Although the intimacy never disappears from his works, in "Campos de Castilla" he explores new paths (and moves closer to the Noucentisme movement) and his poems revolve around the topics of the Castilian lands that surround him and the people that live there.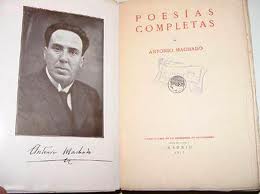 "Nuevas canciones" was published in 1924. Written partly in Baeza and partly in Madrid, it still has some of the nostalgic tone present in his first works. "Poesías completas" was published in two different editions, first in 1928 and then in 1933, and both have apocryphal: "Juan de Mairena", "Abel Martin" and "Antonio Machado". All of them are treated as authors of the poems that were added in successive editions. Juan de Mairena is also a prose writer, and Machado said that he's the embodiment of his philosophical streak.
In 1936 Machado publishes a prose book, "Juan de Mairena. Sentencias, donaires, apuntes y recuerdos de un profesor apócrifo", of collected essays that he'd been publishing in the newspapers in Madrid from 1934 onwards. This volume is proof that Machado was one of the most original prose writers of the 20th century. The essays are about multiple topics: society, culture, art, literature, politics, philosophy, etc. His tone varies depending on the topics, serious in some, ironic or satiric in others, even humorous in some.
During the 20's and 30's he writes plays in collaboration with his brother, Manuel Machado, and they both release the following plays in Madrid: "Desdichas de la fortuna o Julianillo Valcárcel" (1926), "Juan de Mañara" (1927), "Las adelfas" (1928), "La Lola se va a los puertos" (1929), "La prima Fernanda" (1931) and "La duquesa de Benamejí" (1932).
During his time in Valencia, Machado didn't write much poetry, preferring to spend time writing prose. He published his last book, "La Guerra" in 1937, mostly filled with testimonials but which also has some great texts like "El crimen fue en Granada".